For Employees
With proper planning you will be better prepared for achieving your financial goals….
Attending the Education in the Workplace education series at your company will:
· Help you understand, appreciate and utilize your group benefits package
· Allow you to take control of your financial future
· Provide you with education in these volatile times our market is facing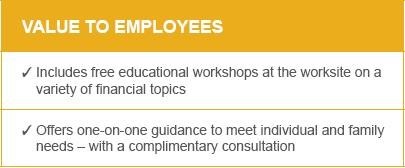 Workplace Learning offers you the employee and family members if desired, interactive workshops on a variety of financial topics including, retirement planning, investment fundamentals, tax strategies, financial management and benefits integration all delivered by a professional Financial Representative at your worksite.
At the conclusion of each workshop, you will be able to schedule a complimentary, one-on-one consultation. The one-on-one consultations are held with a financial representative who will provide a personal and confidential touch to assist you in determining the best solutions for your needs and how to utilize your benefits package.